Billpay's/Klarna's payment options
 In order to be able to offer you Klarna's payment options and to assess whether you qualify for their payment options and to tailor the payment options for you, we might in the checkout pass your personal data in the form of contact and order details to Klarna and Billpay. Your personal data is handled in accordance with applicable data protection law and in accordance with the information in Klarna's [de, fr, it or en versions] and Billpay's [de, fr, it or en versions] privacy notices.
Payment methods include PayPal, PayPal Later and Credit cards.
PayPal is a safer, easier way to send and receive money online. When you select PayPal as the payment method, you will be linked to the PayPal site where you can make payment.
PayPal can be used to purchase items by Credit Card (Visa, MasterCard, Discover, and American Express), Debit Card, or E-check (i.e. using your regular Bank Account).
After viewing your items on your shopping cart page, you can click and check out with PayPal. Then you will leave our site and enter PayPal's website.
You can sign in to your PayPal account, or you can create a new one if you haven't got one.
You can use the PayPal as you want according to the on-screen instructions.
Usually, PayPal e-check will take 3-5 business days to be confirmed by PayPal.
The reasons why we suggest you use PayPal:
Payment is traceable. By using your PayPal account, you can trace the status of your payment.
When you make payment for your order, you don't need to use your credit card online (you can transfer directly from your bank account).
When you use your credit card through PayPal, nobody will see your credit card number, which will minimize the risk of unauthorized use.
The store may also accept credit cards for the payment.
In order to accept credit card payments, the store complies with the industry security standards established by the major credit card companies (American Express, Discover, JCB, MasterCard, and Visa) to protect the buyers from cardholder information theft.
All credit card information is kept to a minimum. The storage and retention of any credit card information is limited to what is required for business operations only.
Access to credit card information is strictly limited to those employees who are authorized and trained to use it for the business purposes.
Buy now, pay later with Pay in 4
There's no impact on your credit score and it's backed by PayPal.
It's interest free
Make 4 interest-free payments with Pay in 4.
Get a decision in seconds
There's no impact to your credit score—you won't have to wait long to see if you're approved.
It's backed by PayPal
Get the same security and Purchase Protection you already enjoy from PayPal.
PayPal protects
Fraud Protection
With 1 billion monthly transactions and the intelligence from our global network of buyers and sellers, our 24/7 fraud detection and monitoring tools only get smarter.
PayPal helps you meet your global compliance standards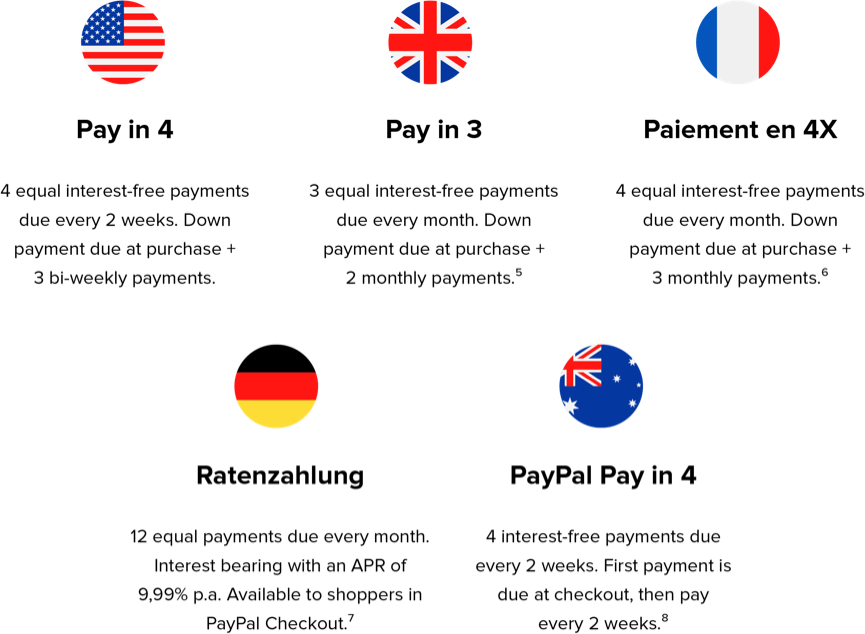 Built-in Compliance
PayPal payment solutions help you meet your global compliance standards, such as PCI and PSD2, bringing international markets within reach. PayPal has built-in compliance with two-factor authentication provided by cards (3D Secure). PayPal includes automatic updates as security protocols change.
Verifone is a secure payment method for you. We have a payment institution license issued by the Financial Supervisory Authority. The service is maintained by Verifone Finland Oy (business ID 0943819-9).
The Verifone payment service will forward your payment to the merchant. If your account statement or credit card invoice shows Verifone Finland Oy, we have forwarded your payment.
The online store acts as a marketer of products and services and as a supplier of products to the customer. The online store takes care of the statutory and other obligations related to the transaction. If you want to complain or return the product, you should contact the online store where the product was ordered directly.
Finnish bank payments
You have payment buttons for all Finnish banks at your disposal. You can pay with the payment buttons of Aktia, Danske Bank, Handelsbanken, Nordea, Oma Säästöpankki, Osuuspankki, POP Bank, Säästöpankki, S-pank and Ålandsbanken. Verifone Finland Oy will appear as the payee on your account statement, we will forward your payment to the online merchant. From the online store, you will be directed directly to your own bank to make the payment securely.
Credit card payments
You can pay online with Visa, Visa Debit, Visa Electron, MasterCard, Debit MasterCard and American Express cards. The online store uses international Verified by Visa, MasterCard SecureCode and American Express SafeKey authentication services. Verifone Finland Oy appears as the payee on the card invoice and forwards the payment card payment paid by the customer directly to the merchant. Card payments are made securely using a secure payment form and payment card information is not stored in e-commerce systems.
Mobile payment
Mobile payment methods MobilePay and Transfer are in-app services that allow you to pay for online purchases by bank transfer from your account or by card payment from your card by accepting payment in that app.
MobilePay
Payment terms are available on the MobilePay website.
Siirto
Siirto Payment terms are available on the Siirto website.
Invoicing and installment services
Invoice and installment services are provided through Collector. Collector also offers invoice and installment options for corporate customers.
Please also read the more detailed terms for each finance company that you will see when you accept the payment. By accepting the payment, you also accept the terms of the finance company.
Collector
Read more: Collector.fi
Verifone on sinulle turvallinen maksutapa. Meillä on Finanssivalvonnan myöntämä maksulaitostoimilupa. Palvelu on Verifone Finland Oy:n (y-tunnus 0943819-9) ylläpitämä.
Verifone-maksunvälityspalvelu välittää maksusi kauppiaalle. Mikäli tiliotteellasi tai luottokorttilaskullasi näkyy Verifone Finland Oy, olemme välittäneet maksusi.
Verkkokauppa toimii tuotteiden ja palveluiden markkinoijana sekä tuotteiden toimittajana asiakkaalle. Verkkokauppa huolehtii kauppaan liittyvistä lakisääteisistä sekä itse määrittelemistään muista velvoitteista. Mikäli haluat reklamoida tai palauttaa tuotteen, sinun kannattaa olla yhteydessä suoraan verkkokauppaan, josta tuote on tilattu.
Pankkimaksut
Käytössäsi on kaikkien suomalaisten pankkien maksupainikkeet. Voit maksaa Aktian, Danske Bankin, Handelsbankenin, Nordean, Oma Säästöpankin, Osuuspankin, POP-pankin, Säästöpankin, S-pankin ja Ålandsbankenin maksupainikkeilla. Tiliotteellasi maksunsaajana näkyy Verifone Finland Oy, me välitämme maksusi verkkokauppiaalle. Verkkokaupasta sinut ohjataan suoraan omaan pankkiisi suorittamaan maksu turvallisesti.
Luottokorttimaksut
Voit maksaa verkkokaupassa Visa-, Visa Debit-, Visa Electron-, MasterCard-, Debit MasterCard – ja American Express -korteilla. Verkkokaupassa ovat käytössä kansainväliset Verified by Visa -, MasterCard SecureCode – ja American Express SafeKey -todentamispalvelut. Verifone Finland Oy näkyy maksun saajana korttilaskulla ja välittää asiakkaan maksaman maksukorttimaksun suoraan kauppiaalle. Korttimaksaminen tapahtuu turvallisesti suojatulla maksulomakkeella eikä maksukortin tietoja tallenneta verkkokaupan järjestelmiin.
Mobiilimaksutavat
Mobiilimaksutavat MobilePay ja Siirto ovat sovelluksessa toimivia palveluita, joilla voi maksaa verkko-ostoksia tilisiirtona tililtään tai korttimaksuna kortiltaan hyväksymällä maksun kyseisessä sovelluksessa.
MobilePay
Maksuehdot ovat tarjolla MobilePayn sivuilla.
Siirto
Siirto-maksuihin sovellettavat ehdot:
Siirto-palvelun käyttöehdot Nordealla [PDF]
Lasku- ja osamaksupalvelut
Lasku- ja osamaksupalveluita kautta tarjoavat Collector. Collector tarjoaa lasku- ja osamaksuvaihtoehdon myös yritysasiakkaille.
Luethan vielä rahoitusyhtiökohtaiset tarkemmat ehdot, jotka näet hyväksyessäsi maksun. Kun hyväksyt maksun, hyväksyt samalla rahoitusyhtiön ehdot.
Collector
Collectorin yrityslaskun ehdot [PDF]
Lue lisää: Collector.fi